Governance
In this research area we deal with questions about the conditions under which effective and legitimate governance appeared and appears in areas of limited statehood. Which problems accompany this? 
Current Postdoctoral Projects
Das Ideal der Gleichheit. Egalitäre Gesellschaften in der Geschichte Lateinamerikas und der Philippinen, 1600-1900 (Lasse Hölck)
Current Doctoral Projects
La construcción del Estado en el marco de las disputas territoriales en el departamento del Chocó, Colombia (Julián Barbosa)
Transformación de las estrategias de interacción de las bandas delicuenciales en el proceso de inserción violenta durante el periodo tardío de urbanización del conflicto armado en Medellín (1985-2008) (Gicela Aguirre)
The state and local power in Caquetá: between war and peace (Alejandra Ciro)
Seguridad Interior y Policialización de la protesta en el Chile posdictatorial (1990-2019) (Camilo Plaza)
Aspiraciones políticas populares tras la Independencia. La ciudad de México y el puerto de Veracruz (1821-1835) (Rodrigo Perujo)
Completed Resarch Projects
Im DFG-Sonderforschungsbereich 700 "Governance in Räumen begrenzter Staatlichkeit" untersuchten wir gemeinsam mit Politik- und Rechtswissenschaftlern, wie und unter welchen Bedingungen Governance-Leistungen in den Bereichen Herrschaft, Sicherheit und Wohlfahrt in Räumen begrenzter Staatlichkeit erbracht werden und welche Probleme dabei entstehen.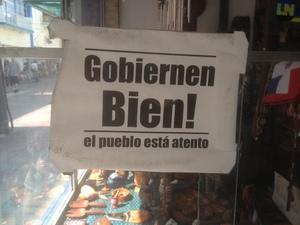 Santo Domingo 2013. © Stefan Rinke
Completed Doctoral Projects
Seguridad Fronteriza en la Frontera de Chile y el Gulumapu: El Estado, los che y la violencia, 1760-1885 (Mónika Contreras Saiz)
"Die strenge Liebkosung der Heimat": Vertrauen als ethnohistorische Analysekategorie am Beispiel der Comcáac (Seris) von Sonora (Mexiko), 1600-1850 (Lasse Hölck)
Die Mapuche und der chilenische Staat: Geschichte eines Konfliktes (1973-2010) (Johanna Höhl)
En Bogotá nos pillamos: La vida-escuela de las Fuerzas Armadas revolucionarias de Colombia ― Ejército del Pueblo (Farc-EP) a través de sus cuatro generaciones 1950-2018 (José Armando Cárdenas Sarrias)