Overview
Food for Justice: Power, Politics, and Food Inequalities in a Bioeconomy is a Junior Research Group based at the Institute for Latin American Studies from the Freie Universität Berlin. It is funded for a period of 5 years (01.04.2019-30.03.2024) by the German Federal Ministry of Education and Research (BMBF). Food for Justice aims at providing a theoretical and conceptual framework – grounded on empirical research – to analyze social and political initiatives that address inequalities based on class, gender, race, ethnicity, rurality, citizenship, and categorical divisions between humans and more-than-humans, thus building ecological, just, and democratic food politics.
Context
Increasingly, citizens perceive the global food system as part of the historical causes of the ecological crisis and persisting hunger in the world. Reasons for these causal links have long been known, such as the use of food for profit, the gap between production and consumption, conflicts over land and water, exploitative labor relations, the energy matrix, and waste generation, among others. Nevertheless, research on food security and the bioeconomy tend to rely on the same solutions, i.e., searching for technological fixes toward a profit-oriented model that exploits living matter.
To complexify the debate and contribute to socio-environmental transformation, more knowledge about which food system citizens desire is needed. Further, it is important to explore which alternative knowledge and technologies already successfully handle such claims for Justice within food politics and how to redirect public policies towards a just, democratic, and ecological food system.
Research questions
The broader research problem that Food for Justice addresses is:
What projects of social change are aspired for, or are already underway, to transform a society based on exploitative food politics towards a society that fosters ecological, just, and democratic food politics?
This broader research problem will be specified in four research questions:
What are the main justice claims that mobilize citizens and consumers to denounce food inequalities and demand alternative food politics in different world regions?
Which knowledges and technologies are found within food movements that aim to overcome food inequalities and shape ecological, fair, and democratic food politics?
When are these alternative knowledges and technologies able to influence food politics in general and public policies in particular?
How have multiple crises (sanitary, societal, economic, political) associated with the Covid-19 pandemic exacerbated and made food inequalities visible or provided windows of opportunity for change in food politics?
Our approach
Food for Justice conducts empirical research in two world regions: Europe, with a focus on Germany, and Latin America, predominantly in Brazil. Whenever possible, case studies from other countries in these world regions will be included. Food for Justice is situated within debates in transformation research on socio-environmental change in the tradition of critical social sciences. The project highlights contributions to this research agenda through the topic of food. The subject will be approached through the lenses of social movements engaged in food politics, conceptualized here as food movements, as instances to look at social change from below.

To assess the relative aspirations of food initiatives in achieving such all-encompassing transformations, Food for Justice relies on the conceptual framework of global entangled inequalities (Jelin, Motta, and Costa 2017; Boatcă 2016) and develops the concept of food inequalities, which are multidimensional, multi-scalar, intersectional and dynamic. Conceptual development is a central contribution of the project by linking debates on transformation to conceptual developments in research on social inequalities, operationalized in the topic of the role of food in socio-ecological transformations. Food for Justice is guided by decolonial and feminist epistemologies on food, ecologies, and knowledge generation. This entails an epistemological stance towards decentering the abstract, universal, undefined subjects of social movements and food politics.

Please, check the Food for Justice Working Paper 1 for further information about our research design.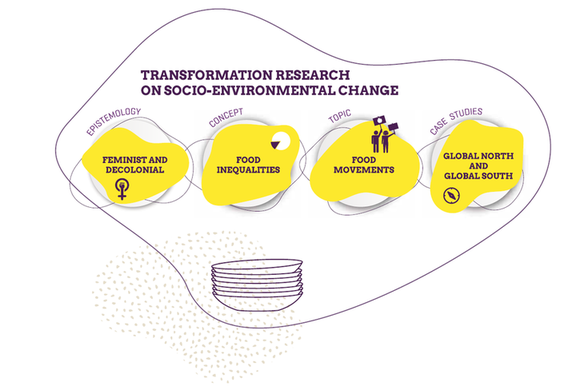 Expected contributions and outcomes
Food for Justice aims to achieve the following academic outcomes:
a) to consolidate a broader approach to food security and the bioeconomy agenda in Germany within the perspective of critical social sciences. This includes research topics such as social inequalities and social change, and contributions from environmental sociology, the sociology of space as well as interdisciplinary fields, such as science and technology studies, gender studies, and decolonial studies;
b) to articulate research fields that have often talked past each other under the umbrella of food studies, which is still an incipient area in the German scientific landscape;
c) to develop the concept of food inequalities as a contribution to social scientific research on social inequalities;
d) to develop theoretical and methodological contributions to transformation research, with a focus on socio-environmental change;
e) to contribute to decolonial theory and method by linking case studies from the Global North and the Global South, adopting a decolonial and feminist perspective.
Practical-relevant outcomes, Food for Justice aspires to:
a) identify socially demanded and accepted solutions to conflicts between the goals of food production, environmental protection, and climate change, due to agriculture having an ambivalent role at these crossroads;
b) identify knowledges and technologies that already respond to complex problems such as producing waste-free, healthy, environmentally friendly, and just food that benefits both producers and consumers;
c) identify, based on empirical studies, policy-relevant challenges, and opportunities for shaping social transformations of food systems with social, ecological and global justice;
d) offer analytical tools to assess the transnational impacts of the German National Bioeconomy Strategy, as well as learning from successful experiences in South America, by systematically comparing case studies across world regions and tracing their transnational connections;
e) provide policy-relevant information and recommendations to cooperation agencies in Germany that are working on projects to guarantee food security.
Keywords
Approach
Context
Goals
Overview